The (Freakishly) Snowy April of 2018 Continues
Any lingering, nagging doubt you live in the Super Bowl of Weather will be erased by Saturday, when a band of 6-12 inches sets up near (or over) the Twin Cities.
10.3 inches of snow has already piled up this month (average is 2.5 inches). Right. The all-time record is 21.8 inches in 1983. That's the year I arrived to work at Channel 11. I clearly remember having a holy (cow) moment.
Never forget that we live in a far southern suburb of Winnipeg. The only month snow hasn't been observed at an official Minnesota reporting station is July. We still have Weather Boasting Rights for America. That probably won't change anytime soon.
Today should be the calm before the storm, with low 50s possible. Rain arrives Friday and changes over to snow Friday night. Yesterday NOAA and ECMWF (European) models showed the axis of heaviest snow setting up close to the Twin Cities; maybe a foot in some spots. Final totals will depend on the exact storm track, the speed of the storm and how much moisture wraps into the system from the Gulf of Mexico.
Confidence levels are low; it's still early for specifics. It could be a big pile.
---
Ice Storm Potential Grows. We're all fixated on snow Friday night and Saturday, but the atmospheric profile may be ripe for an extended period of sleet (ice pellets) and freezing rain (rain freezing on contact with cold surfaces). As much as .25″+ of glaze ice may accumulate from the Twin Cities to Mankato and Northfield, based on latest guidance. Factor in 30 mph plus winds and you have all the ingredients for power outages.
---
GFS Model Run. Here is the 00z guidance, showing the axis of heaviest snow setting up from near Alexandria to St. Cloud, which seems reasonable. Wrong word. It seems consistent. This may still be a plowable snowfall for the Twin Cities metro, but a period of ice could bring snowfall totals down a bit. This forecast will change in the next 36-48 hours – watch the trends. Map: pivotalweather.com.
---
NAM Model Run. The 00z run of NOAA's NAM model shows the greatest potential for heavy snow from Sandstone to St. Cloud and Montevido, with some 2 foot amounts predicted for the Buffalo Ridge. Like the GFS, it pushes the heaviest snowfall amounts north and west of the Twin Cities. I need an aspirin.
---
Guidance from the Twin Cities office of the National Weather Service:
---
---
---
---
Updated Twin Cities Winter Misery Index. I have a hunch the misery will increase before we finally turn a corner into (real) spring. Here's an excerpt of an update from the Minnesota DNR: "…As of April 11, 2018 the WMI for the 2017-18 winter is at 88 points: 43 points for cold, 45 points for snow. This is enough for 2017-18 to be categorized as a "moderate" winter. As of April 11, the winter of 17-18 has 62.5 inches of snow so far at the International Airport, 9.4 inches above normal. The WMI for the winter of 2016-17 finished with 49 points, enough for 2016-17 to be categorized as a "mild" winter. The total WMI points for the 2016-2017 winter were 23 for cold and 26 for snow: 49 points. The WMI for the winter of 2013-14 in Twin Cities was 207 points, or in the high end of the "severe winter" category.  This was the 9th most severe winter on record based on WMI points. The lowest WMI score was the winter of 2011-2012 with 16 points. The most severe winter is 1916-1917 with 305 WMI points..."
More Shriek-Worthy April Snow Statistics. St. Cloud picked up 30″ snow over a 2-day period in April of 1893. There were 2 separate 10″+ snowstorms in April of 2013, as well. Good grief.
---
---
A Reason to Keep On Going. The thing about mid-April: it's hard to keep fresh snow on the ground for more than a couple days. A high sun angle coupled with 40s next week will mean rapid melting. Whatever does fall should be largely gone by Tuesday or Wednesday. Except for west central Minnesota, where drifts may hang on a while longer. Twin Cities ECMWF data: WeatherBell.
---
Praedictix Briefing: Issued Wednesday AM, April 11th, 2018:
As we head toward the end of the week, we will be watching a strong system that will be moving into the central United States. This system will have the potential to produce heavy snow on the north side of the system, with severe storms across the central and southern Mississippi Valley into the Southeast.
The energy that will produce this center of low pressure isn't even onshore across the west coast yet, so there are expected to be changes in the forecast over the coming days. We will continue to refine this forecast, but wanted to give an early heads up on this system.
---
Potential Storm System. As we head toward the end of the week and into the weekend, we will be watching a center of low pressure move out of the Rockies and into the central United States. There are a number of questions with this system, including the overall eventual path and how quickly this system will move east, that will be better defined over the next few days. However, at this time this system looks like it will produce severe weather across the central and southern United States Friday into Saturday, with the potential of heavy snow on the north side from the upper Midwest into the Great Lakes.
---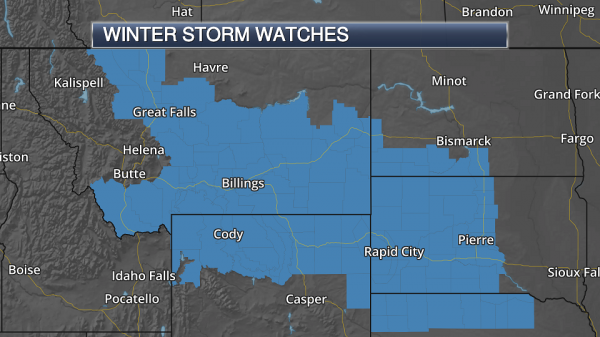 Winter Weather Concerns. Already Winter Storm Watches are in effect from Montana into parts of the Dakotas and northern Nebraska for this system as it takes shape Thursday into Friday. The potential exists across most of this watch area for at least 6" of snow, with some amounts of 1-2 feet possible in isolated locations. Map credit: AerisWeather.
---
Potential Snow Totals. A band of heavy snow is expected on the north side of this storm system as we go through the end of the week into at least the first half of the weekend from the Northern Plains into parts of the Upper Great Lakes. With this system being several days out, there is still a question across parts of the Dakotas into Michigan as to where this heavy snow band will set up. Most of that will depend on the overall track of the system as we head into the weekend, with most of the snow falling across this region late Friday into Saturday. This will be better defined as we go through the next several days, but there is a strong likelihood that plowable snow totals will be possible wherever this heavy snow band does set up. Stronger winds gusts of at least 20-30 mph will also accompany the snow, which could cause blowing and drifting concerns.
---
Severe Potential Friday. This system will also bring the potential of severe weather along with it. Already an Enhanced Risk of severe weather is in place for Friday from parts of Missouri and Kansas south into eastern Texas and northwestern Louisiana. Cities under this Enhanced Risk include Shreveport (LA), Little Rock and Fort Smith (AR), Springfield (MO) and Tyler (TX). Large hail, damaging winds and a few tornadoes are possible across this region Friday afternoon into the overnight hours.
---
Severe Potential Saturday. The severe potential will continue eastward into Saturday, with a 15% probability of severe storms across parts of the Tennessee River Valley south to the central Gulf Coast. This threat on Saturday includes New Orleans and Baton Rouge (LA), as well as Birmingham, Montgomery, and Mobile (AL). The primary threat on Saturday appears to be damaging winds at the moment.
Summary. We will continue to watch a strong system develop and move out across the central United States into the end of the week and the weekend. This system could bring the potential of heavy snow from the Northern Plains into the Upper Great Lakes as well as severe storms across the central and southern Mississippi Valley into the Southeast. The energy that will produce this center of low pressure isn't even onshore across the west coast yet, so there are expected to be changes in the forecast over the coming days. We will continue to refine this forecast, but wanted to give an early heads up on this system.
D.J. Kayser, Meteorologist, Praedictix
---
Holy Frost Depth! 35″ of frost still in the ground in Bloomer, Wisconsin? Wow. The frost depth in the Twin Cities ranges from 16-19″, which may be problematic if we do see heavy rain Friday. None of that water will be able to soak into the soil – it will run off, increasing the potential for ponding and even some minor flooding. Frost data: NOAA.
---
Updated Statistics. We're up to 62.5″ snow for the winter season, the most since 2013-2014, when 69.5″ of snow fell on the Twin Cities. Source: Twin Cities National Weather Service.
---
National Weather Service Replacing Alaska Jobs with Automated Stations. The Anchorage Daily News reports: "The Trump administration is replacing human operators with million-dollar Finland-made machines at weather stations around Alaska. The National Weather Service said it will eventually save money and argues that no employees will be lost. Employee advocates say the technology misses out on key human observations that are important to national weather forecasting and Alaskan flight planning, and that the administration is being disingenuous about the jobs they are taking away from Alaskans. The National Weather Service plans to install the Finnish "Autosonde" stations to release weather balloons and collect data, beginning in the Southeast community of Annette next month, and ending with eight communities later in Nome, in August 2019. Each costs roughly $1.2 million to install…"
Photo credit: "Meteorological technician Willy Tcheripanoff releases a helium-filled weather balloon to gather temperature, humidity, air pressure, wind speed and direction over the Bering Sea in 2004. This balloon rose 110,000 feet before it burst." (Doug O'Harra / ADN archives).
---
Taming the Mighty Mississippi May Have Caused Bigger Floods. A story at Scientific American caught my eye. The Bernoulli Principle in action, I'm afraid: "…Now a new study raises the possibility much of the effort humans have put into trying to control the mighty river has paradoxically made its large floods more destructive. The magnitude of so-called 100-year floods—massive inundations defined as having a 1 percent chance of occurring in any given year—has increased 20 percent in the past five centuries on the lower Mississippi, researchers reported this month in Nature. The bulk of the increase has been in the last 150 years, when human engineering of the river has been most intense. "We've channelized the river, we've straightened it," says Samuel Muñoz, lead author of the new study and an assistant professor of marine and environmental sciences at Northeastern University. "We've made the gradient steeper, and we've encased the river in concrete mats and lined it with levees..."
---
---
Is It Safe to Talk On Your Cell Phone During a Thunderstorm? Safer than using a landline, I suspect. AccuWeather has the story: "…The first thing that people should understand is that nothing really attracts lightning, but lightning does follow wires and fences and things of that nature. So if you're on a cell phone, you're not any more likely to be struck by lightning than when you're not on that cell phone," said John Jensenius, lightning safety specialist for the National Weather Service. "The key is, though, that you want to be in safe place so that you're not struck by lightning whether you're carrying a cell phone or not," said Jensenius. "It's the place you're located that is more of a concern than anything else. If you're near a cell phone tower, that's bad because lightning will come and hit the cell phone tower," said AccuWeather Senior Meteorologist Dan Kottlowski…"
---
Why Weather Forecasters Still Struggle to Get the Big Storms Right. Because the forecast is rarely black or white, but some nebulous shade of gray. Here's an excerpt from Madison.com: "…Why does the European do so well, compared to its American counterpart? For one, it's run on a more powerful supercomputer. Two, it has a more sophisticated mathematical system to handle the "initial conditions" of the atmosphere. And three, it's been developed and refined at an institute whose singular focus is on medium-range weather prediction. In the U.S., the medium-range American model is part of a suite of several models, including several short-range prediction systems that run as frequently as every hour. The time, intellectual focus and costs are shared among as many as four or five different types of models..."
---
Hurricane Hype Needs to End, Especially for Houston. Houston Press has the Op-Ed: "…Houston is affected by tropical weather nearly every year. But, in terms of major storms or devastation, we have only seen that a handful of times in the last 50 years. Hurricane Alicia (1983), Tropical Storm Allison (2001), Hurricane Ike (2008) and Hurricane Harvey (2017) are most notable among them. It can be scary, but so were the Tax Day Floods or the Memorial Day Floods. Weather in Houston is what it is, there is no need to make it worse by scaring ourselves. It's why we have local resources like Space City Weather and great meteorological organizations like the people at Colorado State to rely on for accurate and reasoned information. Stick with the rational information and ignore the hype. Oh, and go ahead and plan for hurricane season like you do every year because it will be here before you know it…"
Photo credit: "Nerves are frayed enough thanks to memories like this one. The last thing we need are headlines overhyping early-season hurricane forecasting." Photo by Meagan Flynn.
---
Forecasters Are Warning This Year's Hurricane Season Will Be Worse Than Usual. A weak La Nina or ENSO-neutral pattern may (emphasis on the word may) favor lighter winds high above the tropics and more hurricanes, but confidence levels this far out are low. TIME.com explains: "…This year's hurricane season is shaping to be another big one with a greater than 60% chance of a major hurricane hitting the U.S. coastline, according to a new forecast from top meteorologists. Researchers at Colorado State University estimate that seven hurricanes and 14 named storms will form during this year's Atlantic hurricane season with the intensity of the season slightly above the average from recent decades. An above-average hurricane season this year would follow devastation wrecked by a series of 12 named storms in 2017. More than 100 people died as a result of major storms last year and the events caused an estimated $200 billion in damage, according to figures from the National Oceanic and Atmospheric Administration…"
---
Oil Spill Now Larger Than Paris Ravages Indonesian Island, 5 Dead. EcoWatch has the latest: "An oil spill in Borneo that began over the past weekend has now spread across an area greater than the city of Paris and is heading out to the open ocean, the Indonesian government said. The spill, first reported on March 31, stems from a pipeline operated by state-owned oil firm Pertamina in the city of Balikpapan, in East Kalimantan province. A report released April 4 by the Ministry of Environment and Forestry said the slick was spreading out from Balikpapan Bay and into the Strait of Makassar, covering some 130 square kilometers (50 square miles). Pertamina, which for days had denied responsibility for the disaster, finally admitted on April 4 that one of its pipes used for transporting crude oil was the source of the slick..."
Photo credit: Xinhua.
---
Internet's Oldest White Supremacist Site Going Broke. The Daily Beast reports: "One of the internet's oldest white supremacist websites is on the brink of financial ruin, its owners say. Stormfront.org has been an internet hate hub since it launched in 1996. Its owner, former Ku Klux Klan leader Don Black, said last week that donations had plummeted and that the site was scaling back operations. But longtime Stormfront posters suggested Black's wife had been paying the bills, and that she was finally checking out..."
Photo illustration: Sarah Rogers/The Daily Beast.
---
Facebook's Surveillance is Nothing Compared to Comcast, AT&T and Verizon. It almost makes you want to unplug – but connected life is so damn convenient! Here's a clip from The Guardian: "…The thing is, Facebook isn't the only company that amasses troves of data about people and leaves it vulnerable to exploitation and misuse. As of last year, Congress extended the same data-gathering practices of tech companies like Google and Facebook to internet providers like Comcast, AT&T and Verizon. Because service providers serve as gatekeepers to the entire internet, they can collect far more information about us, and leave us with far less power to opt out of that process. This means that the risks of allowing our internet providers to collect and monetise the same type of user data that Facebook collects – and the potential that such data will therefore be misused – are much, much worse. Your internet provider doesn't just know what you do on Facebook – it sees all the sites you visit and how much time you spend there…"
---
The Era of Fake Video Begins. You think the proliferation of fake news via social media is bad today? Wait for it. Here's a snippet from The Atlantic: "…Fabricated videos will create new and understandable suspicions about everything we watch. Politicians and publicists will exploit those doubts. When captured in a moment of wrongdoing, a culprit will simply declare the visual evidence a malicious concoction. The president, reportedly, has already pioneered this tactic: Even though he initially conceded the authenticity of the Access Hollywood video, he now privately casts doubt on whether the voice on the tape is his own. In other words, manipulated video will ultimately destroy faith in our strongest remaining tether to the idea of common reality. As Ian Goodfellow, a scientist at Google, told MIT Technology Review, "It's been a little bit of a fluke, historically, that we're able to rely on videos as evidence that something really happened..."
Image credit: Edmon de Haro.
---
Worst Flu Season on Record for Minnesota. Bring Me The News has the sordid details: "Winter is over in Minnesota (lol) and officials are taking stock of what has been a record bad flu season. The latest figures from the Minnesota Department of Health show that there have been 6,030 hospitalizations as a result of the flu between the start of the season and the end of March. That makes it the highest amount of hospitalizations in a single flu season since the current records started being taken in 2008, thanks to a predominant strain that the flu vaccination wasn't particularly effective against. There have been five pediatric deaths so far this season linked to flu…"
---
Your Body is a Teeming Battleground. No kidding. The Atlantic reports: "...Where is the evidence that all the effort at prevention saves lives or delays death? It's hard to find, she discovers. In people who have a strong family history of heart disease, treating high cholesterol does decrease mortality, on average. But for those who don't have that predisposition, it doesn't. Colonoscopies have not been proved more effective at reducing deaths from colon cancer than other, cheaper, less-invasive tests. Sometimes procedures cause more trouble than they prevent. Mammograms, for instance, detect tumors that might never be fatal, and can lead to over-treatment, which carries its own risks. The insight is counterintuitive—although finding diseases early on should prolong lives, the screenings we undergo don't seem to lower mortality rates overall—and Ehrenreich decides that she will no longer get most preventive care…"
Illustration credit: Jules Julien.
---
In Spite of Lousy Weather, Twin Cities Makes U.S. News Rankings of Best Places to Live. Patch.com has the highlights: "Affordability, the availability of jobs and quality of life are all things people consider when deciding where to move. U.S. News & World Report's 2018 Best Places to Live in the United States shows people are moving to the South, Western states and the Midwest. The Minneapolis-Saint Paul metro came in at ninth place in the ranking of the country's 125 largest metropolitan areas. Austin, Texas, was named the No. 1 best place to live for the second consecutive year. Colorado Springs, Colorado, took the No. 2 spot, bumping Denver, Colorado, to No. 3, and Des Moines, Iowa, came in at No. 4. Fayetteville, Arkansas, came in at No. 5 for the second year in a row. Rounding out the top 10 were Portland, Oregon; Huntsville, Alabama; Washington, D.C.; Minneapolis, Minnesota; and Seattle, Washington..."
File image: Midwest Energy News.
---
Above Average: Minnesotans Live Longer Than Most, Study Shows. Well, we got that going for us. Probably because we're cold and well-preserved. Patch.com has the details: "A broad new study of the impacts of disease in all 50 states finds that Minnesotans live longer and healthier lives than residents of nearly any other state. However, the report finds big disparities among the states and an overall national performance that lags behind other, less developed countries that spend less on health-related costs per person. The Institute for Health Metrics and Evaluation at the University of Washington coordinated the study, which is published in the April 10 issue of the Journal of the American Medical Association. The new study ranks Minnesota fourth overall in life expectancy behind Hawaii, California and Connecticut…"
---
48 F. maximum temperature at MSP International Airport on Wednesday.
56 F. average high on April 11.
53 F. high on April  11, 2017.
April 12, 1931: July-like temperatures are felt across the area with 90 degrees at Beardsley in west central Minnesota.
---
---
THURSDAY: Peeks of sun, mild. Winds: N 5-10. High: 52
THURSDAY NIGHT: Mostly cloudy. Low: 39
FRIDAY: Periods of rain, possible T-storms. Winds: NE 20-30. High: 42
SATURDAY: Heavy wet snow, could be plowable. Winds: NE 15-25. Wake-up: 27. High: near 30
SUNDAY: Flurries taper, clouds linger. Travel slowly improves. Winds: N 7-12. Wake-up: 23. High: 38
MONDAY: Partly sunny and milder. Winds: W 7-12. Wake-up: 26. High: 44
TUESDAY: More clouds than sun. Winds: SE 8-13. Wake-up: 29. High: 46
WEDNESDAY: Light mix possible, still cool. Winds: NW 10-15. Wake-up: 32. High: near 40
---
Climate Stories…
Climate Change Will Disrupt the Way Big Agriculture is Done. Bloomberg has some interesting perspective; here's an excerpt: "…As water becomes more scare and global temperatures rise, regulations for agriculture — the world's largest contributor to non-carbon dioxide emissions — are likely to become stricter and farmers will demand more environmentally friendly equipment and farming techniques. Agriculture will shift from being labor-intensive to being capital intensive, with farmers relying on technology to get bigger yields from their crops, spur profits and solve problems like reduction of waste, the report said. In this scenario, one of the big winners will be precision-agriculture companies and some of their gains will come at the expense of growers, BMI said. "A larger share of farming profits will be captured by these suppliers," and the rise of ag tech will mean higher production costs and a strong dependence on the firms providing these services, the report said. As food consumption continues to rise, commodity supplies will be strained…"
File image: iStock.
---
U.S. Carbon Emissions Are Declining in the Electric Sector – And Rising Everywhere Else. Vox reports: "…Power sector emissions continue to decline, but because emissions in other sectors are rising, total energy-related emissions in the US fell by only 0.66 percent in 2016-2017 — half their average annual 1.3 percent decline between 2005 and 2016. The lack of progress in other sectors is threatening to ground out progress in electricity. Thanks to coal, the US power sector was the top carbon emitter in the US economy for decades. But stagnant power demand, coupled with coal being steadily replaced by natural gas and renewables, has meant its emissions are declining. Meanwhile, vehicle miles traveled (VMT) in the US are back on the upswing after a post-2008 lull and cheap gas means Americans are once again favoring trucks and SUVs. Consequently, as of a couple years ago, the two lines crossed, and transportation has now cemented its lead as the new top emitter…"
---
Conservative Solutions Exist to Address Climate Change. Here's a clip from an Op-Ed at Times Union: "…Second, Republicans have real solutions to offer that can appeal to voters across the political spectrum. Recently Bob Inglis — a former Republican congressman and executive director of RepublicEn, a nonprofit, for which I do volunteer work, that is dedicated to free-enterprise climate solutions — traveled throughout the Capital Region talking about a revenue-neutral carbon tax, which would encourage competition, increase innovation, create jobs, and shift the economic cost from hard-working Americans to exporters like China. Solutions like this from politicians with conservative credentials stand a greater chance of making progress than liberal alternatives. Third, Millennials. Climate change is a uniquely millennial issue since younger generations will bear its costs. Recent polling found 57 percent of Republicans and 77 percent of Independents believe mankind should try to stop climate change..."
---
CLIMATE IMPACTS: Headlines and links courtesy of Climate Nexus: "Clown fish need more energy to live in a bleached home (New York Times $), beneath the ice (Grist), extreme ocean heat waves are a thing, and they're getting worse (Mashable), what melting sea ice means for life in the Arctic (Vox), the biology of superheroes (Nexus Media News), you're making this island disappear (CNN), climate change will disrupt the way big agriculture is done (Bloomberg), British butterflies suffered seventh worst year on record in 2017." (Guardian)
---
Increasing Snowfall in Antarctica Could Reduce Sea Level Rise, But Only a Bit. CNN has the story: "Snowfall across the great white continent of Antarctica is increasing, according to a study released this week by an international team led by the British Antarctic Survey. The team analyzed 79 ice cores from across Antarctica that provide detailed information on how much snow has fallen over hundreds of years, and it found a 10% increase in snowfall over the past two centuries. This contradicts studies that found that Antarctic snowfall has remained largely constant over the past several decades to centuries. But those studies analyzed only a few ice cores, whereas this comprehensive look at the continent gives a much more thorough view of how weather patterns have changed the polar weather…"
---
Florida's Cities Are Experiencing Shorter, More Intense Wet Seasons. Here's a clip from a story at UPI: "…In other words, the urban areas experience the same amount of rainfall as the rural areas but in a shorter amount of time. Therefore, the hourly rain rate is stronger in urban regions," Misra said. "This suggests that urban areas are receiving the rainfall in shorter, more intense bursts — particularly during the summer months." The findings support previous research efforts that have shown the size and shape of cities — their layout, or urban footprint, and their skyline — can affect regional climate patterns…"
Image credit: NASA.
---
Analysis: How Much 'Carbon Budget' is Left to Limit Global Warming to 1.5C? Carbon Brief has the story: "In 2015, by signing up to the Paris Agreement on climate change, nearly every country pledged to keep global temperatures "well below" 2C above pre-industrial levels and to "pursue efforts to limit the temperature increase even further to 1.5C". Limiting warming to 1.5C requires strictly limiting the total amount of carbon emissions between now and the end of the century. However, there is more than one way to calculate this allowable amount of additional emissions, known as the "carbon budget". While calculations based on Earth System Models (ESMs, see below) used in the last Intergovernmental Panel on Climate Change (IPCC) report suggest that we have only a few years left at our current rate of emissions before we blow the 1.5C carbon budget, some recent studies have suggested that the remaining carbon budget is much larger…"
Image credit: "Climate models project 21st century global temperatures." Credit: Alex Kekesi / NASA's Scientific Visualization Studio.
---
Shell Grappled With Climate Change 20 Years Ago, Documents Show. Scientific American has the article: "Two decades ago, a group of researchers envisioned a violent storm ripping through the East Coast with such force that it would transform young people into climate activists, spark lawsuits and cause government leaders to turn on fossil fuel companies. They were only off by two years. They also worked for Shell Oil Co. In 1998, Shell researchers wrote an internal memo about future scenarios that could harm their business. They determined that "only a crisis can lead to a large-scale change in this world," according to the memo, recently uncovered by De Correspondent with a trove of company documents..."
File image: Marco Brindicci, Reuters.
---
The Sky's the Limit. My thanks to Stuart Sudak at Southwest Metro Magazine for stopping by for a chat. here's an excerpt of his recent story: "…I can't say I celebrate Earth Day, but I certainly acknowledge that we have an obligation as Christians to pay attention and see the world as it is, not as we think it should be," he says. Douglas knows there is much skepticism among Evangelicals and conservatives on climate change. He at one time was skeptical, too. But, the weather patterns he noticed in the late 1990s and early 2000s swayed him. "A warmer atmosphere holds more water like a sponge sucking up more moisture," he says. "And when the water comes down, it's coming down harder and faster and longer. And it isn't a climate model. It's based on Doppler [Radar], and it's based on water in your rain gauge. The rain is falling harder in Minnesota." Douglas co-wrote in 2016 the book, Caring for Creation: The Evangelical's Guide to Climate Change and a Healthy Environment with the Rev. Mitch Hescox, president of the Evangelical Environmental Network (EEN). The book's goal is to reach out to conservatives with "climate change messaging that resonates," he says…"
---
Oil Companies Appear Willing to Do More in Face of Climate Change. Axios explains: "Oil companies of many stripes have gone out of their way to talk about climate change at CERAWeek, the big oil industry conference in Houston — reflecting a significant shift in the industry. Why it matters: Years ago the struggle between climate change activists and oil companies was around the underlying science and getting companies to accept the role that fossil fuels play and that action is necessary. Now the call throughout the oil and gas sector is to become part of the solution. Not everyone is there yet, and even among those who are, the pace required to transition the world's energy system and to meet global climate targets is simply daunting, a path often often marked by uncertain commercially viability. Yet many large international oil companies are beginning to invest in the transition to a low-carbon future. Smaller oil and gas companies are recognizing the shareholder-driven need to evaluate climate change as a potential risk facing their business…"
---
Climate Change a Risk to National Security, Retired Navy Officer Says. Actually, Dave Titley is a retired Rear Admiral for the U.S. Navy (and a friend). Here's an excerpt of an interview he gave to Wisconsin's Post Crescent: "…A threat has intent. A risk is something that happens. The climate isn't saying, "How can I set out to screw the United States." It doesn't. I tell people: the ice just melts. We're always dealing with risks. The climate doesn't have malevolent intent like, arguably, Russia might have toward the U.S. It's simply changing and if we don't adjust to that change, like almost anything if you don't adjust to the change, bad things happen to you. Take a look at the sea level rise in places like Florida. At some point, Miami, Fort Lauderdale, all those places in south Florida basically become unlivable. The long-term property values go to zero. If you look at that happening along the coastlines, that could make the Great Recession look like a cakewalk..."