The Weather Blog
Daily weather updates
OPHELIA Made Landfall in Ireland
Here was OPHELIA on early Monday morning as it blasted into Ireland with near 70mph sustained winds and gusts up to near 100mph
OPHELIA Strong Winds
Take a look at this tweet from @MetEireann, which shows trees being knocked down on Monday from strong winds associated with OPHELIA.
"Hurricane Ophelia: Woman dies as storm hits Ireland"
"A woman in her 20s has been killed as the remnants of Hurricane Ophelia hit the British Isles. Part of a tree fell on her car in West Waterford, also injuring another passenger, as hurricane-force gusts battered the Republic of Ireland. About 120,000 homes are without power in the Irish Republic, where the government has deployed the army. An amber warning for Northern Ireland, Wales, south west Scotland and the Isle of Man is in force until 23:00 BST. The injured passenger, a woman in her 50s, has been taken to hospital. Her injuries are not life-threatening, the Gardai, Ireland's police force, said. It urged all road users to stay indoors and not travel unless their journey was absolutely necessary. The Met Office has warned of "potential danger to life", with wind gusts off the south coast of Ireland reaching 109mph (176km/h) at Fastnet Rock. A yellow warning of "very windy weather" also covers parts of Scotland, the west and north of England and Wales. BBC weather presenter Chris Fawkes said: "This is one of the strongest storms you're going to see this year."
____________________________________________________________
Fall Color Delight
Minnesota Fall Color Update
Typical Fall Color Peak in Minnesota
Here are the typical fall color peak times across the state of Minnesota and note that areas along the northern tier of the state usually see their peak toward the 2nd half of September. However, peak color usually doesn't arrive in central Minnesota until October, but we're getting close.
Wisconsin Fall Color Update
Colors are popping in Wisconsin too! In fact, much of the state is seeing peak color right now!
See more from Travel Wisconsin HERE:
 _________________________________________________________________
Praedictix Briefing: Monday, October 16th, 2017
* Progress continues to be made on wildfires burning across California. While we will continue to see offshore winds the next couple days which will bring lower humidity values, winds are expected to be lighter. Temperatures will continue to remain warm, however.
* High pressure over the region will start to weaken Tuesday, bringing cooler temperatures and onshore flow. This will help to increase humidity values. A chance of rain also exists Thursday into Friday across the Bay Area.
* These weather conditions will help firefighters help contain at least 15 major wildfires across the state which have burned almost 220,000 acres and 5,700 structures.

Map: CAL FIRE
Numerous Fires Continue Across California. While progress continues to be made on wildfires across the state, at least 15 major fires continue to burn (mainly across northern California). Some evacuation orders are being lifted across the region. You can view an interactive map of the active wildfires from CAL FIRE and view more information on individual fires.

Map: CAL FIRE
Central And Southern LNU Complex Fires. Some of the fires in the Central and Southern LNU Complexes are seeing containment being made, while fires like the Oakmont and Nuns continue to spread. Here's the latest acres burned and containment from CAL FIRE as of last night:
Central LNU Complex

Tubbs Fire: 44,881 acres – 60% contained
Pocket Fire: 11,889 acres – 30% contained
Oakmont Fire: 575 – 15% contained

Southern LNU Complex:

Atlas Fire: 51,057 acres – 65% contained
Nuns Fire (consisting of the Norbbom, Adobe, Pressley and Partrick fires as well): 48,627 acres – 40% contained
As of last night, here is the current situation on the fires according to CAL FIRE:
Tubbs Fire: The most active portion of the fire is still the north-eastern portion around Red Hill and Mount Saint Helena. The fire continues to make short uphill runs around to the north side of the peaks.
Pocket Fire: The fire continues to the east. Crews continue to make progress and increase containment.
Nuns Fire: Fire is progressing to north, spreading at a moderate rate. The fire is being driven by steep slopes and dry fuel.
Oakmont Fire: Fire was very active today, and is progressing in a northerly direction with moderate rate of spread.

Map: CAL FIRE
Mendocino-Lake Complex. Significant progress continues to be made on the fires in the Mendocino-Lake Complex, which contains both the Redwood Valley and Sulphur Fires. Approximately 900 people are still under evacuation orders due to the Redwood Valley Fire. Here's the latest acres burned and containment from CAL FIRE as of last night:
Redwood Valley Fire: 35,800 acres – 45% contained
Sulphur Fire: 2,207 – 80% contained

Image: AirNow
Air Quality Forecast Today. Air Quality will continue to be unhealthy, especially for sensitive groups, around the Bay Area today due to the smoke from wildfires. The Bay Area Air Quality Management District has once again issued a Spare the Air Alert for today. AirNow will have the latest current air quality readings as well as forecasts over the next several days.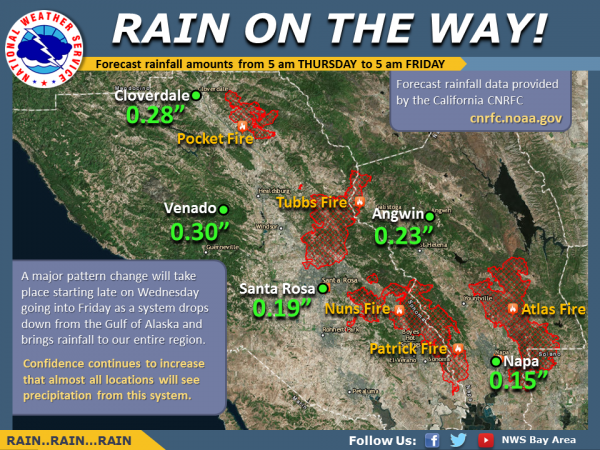 Late Week Rain. It appears likely that rain will spread over the Bay Area Thursday as a system drops out of the Gulf of Alaska. Rainfall totals could top a quarter inch in spots. This should help firefighters continue to battle fires across the region. However, be aware that there will likely be some slippery roads as well as this will be the first rain event of the season.
Meteorologist DJ Kayser
____________________________________________________________________
Top 20 Deadliest California Wildfires
According to CAL Fire, some of the ongoing wildfires have sadly become some of the deadliest wildfires in the states history. Note the TUBBS Fire has reportedly killed 18, which is considered to the be 3rd most deadly fire in the states history.
Here's a look at the current wildfire map across the country. While several fires are still ongoing, recent cool and somewhat wet weather has been helping curb the wildfire threat, especially in the Western US.
Here's a list of all the current large wildfires from Inciweb:
_________________________________________________________
Atlantic Outlook Next 5 Days
Here's the Atlantic outlook over the next 5 days, which shows that OPHELIA is no longer in the northeastern part of the Atlantic as it moved quickly over Ireland on Monday. However, there is also another wave of energy that had a MODERATE probability of tropical formation over the next 5 days.
__________________________________________________________
September 10th – Official Peak of the Atlantic Hurricane Season
Here's the average Atlantic hurricane season, which shows that peak activity generally occurs on September 10th and stays somewhat active through the month of October, but really diminishes through the month of November. Again, the Atlantic Hurricane Season doesn't officially end until November 30th.
___________________________________________________________
PRELIMINARY 2017 Tornado Map
It certainly has been a fairly active first half of 2017 with 1,433 preliminary tornado reports through October 6th. Note that this is the most tornadoes through that date since 2011, when there were 1,815 reports. The map below shows the distribution of the tornadoes so far this year.
PRELIMINARY 2017 Tornado Count
According to NOAA's SPC, the PRELIMINARY 2017 tornado count is 1,433 (through October 15th). Note that is the most active year for tornadoes since 2011, when there were 1,815 tornadoes. Keep in mind there was a major tornado outbreak in the Gulf Coast region from April 25-28, 2011 that spawned nearly 500 tornadoes, some of which were deadly. That outbreak is known as the Super Outbreak of 2011 and has gone down in history as one of the biggest, costliest and one of the deadliest tornado outbreaks in history.
_____________________________________________________________________
National Weather Hazards Ahead…
1.) High winds for coastal sections of Washington and Oregon, Wed-Thu, Oct 18-19.
2.) Heavy rain for the coastal Pacific Northwest and northern California, Tue-Fri, Oct 17-20.
3.) Heavy snow for the higher elevations of the Cascades, Wed-Fri, Oct 18-20.
4.) Heavy snow for parts of the Northern Rockies, Bitterroots, and Columbia Plateau Thu-Fri, Oct 19-20.
5.) Heavy rain for parts of western Washington and western Oregon, Sat-Sun, Oct 21-22.
6.) Heavy snow for parts of the Cascades, Bitterroots, Columbia Plateau, and Northern Rockies, Sat-Sun, Oct 21-22.
7.) Flooding occurring along the St. Johns and Withlacoochee Rivers across central Florida.
Flooding possible for part of southern Texas.
8.) Severe drought across parts of the northern Rockies, northern and central Great Plains, Midwest, and Hawaii.
_________________________________________________________
October Moisture in Montana
Thanks to a number of storm system, parts of Montana continue to pick up much needed moisture. Here's a look at the estimated precipitation since the beginning of October, which suggests some 1″ to near 2″ tallies for some! While it's not drought busting rain, it is drought denting… keep it coming!
Latest Drought Monitor
Here's the latest drought update from the US Drought Monitor, which shows EXCEPTIONAL drought conditions continuing across parts of Montana. Note that nearly 90% of the state is considered to be abnormally dry, but the EXCEPTIONAL drought covers nearly 5% of the state, which is down from nearly 10% from last week. We're also seeing some improvement in the EXTREME drought, which is nearly 18% this week, down from near 23% last week.
Rain Needed to End Drought
Thanks to recent cool and wetter weather, drought conditions have been improving, but we still need nearly 4″ to 10″+ to end the drought in these locations.
____________________________________________________________________
High Temps Tuesday
Here's a look at high temperatures across the nation on Monday, which suggests that temperatures from the Northeast to Southern US will still be a little cooler than average with temps running 5F to 10F below average. However, temps from the Western US to the Great Lakes will be warmer than average, especially in the Midwest where temps could be 15F to almost 20F above average!
 National Weather Outlook
Here's the weather outlook through the middle part of the week, which shows a cold front stalled across Florida with scattered showers and a few storms. Much of the nation remains quiet and dry with the exception of the Pacific Northwest where Pacfic moisture will begin to move into the region.
5 Day Precipitation Outlook
According to NOAA's WPC, areas of heavy rain will continue across parts of Florida, where a few inches of rain could fall through the end of the week. The heaviest precipitation over the next 5 day looks to be found in the Pacific Northwest, where several inches of liquid could fall across the high elevations there. The good news is that there appears to be some much needed precipitation across northern California, where wildfires continue.
Arapahoe Basin – OPEN For Early Season Skiing
Take a look at the lines at Arapahoe Basin in Colorado, where some early season runs are open. They actually just opened on Friday!! Yee-haw!
Snow Depth
Over the last several weeks, there have been several bouts of snow in the Northwestern part of the country and it's still on the ground. Here's the latest snow depth map, which shows some of the greatest amounts in the higher elevations.
Snowfall Potential
Here's the simulated radar from Tuesday to Thursday. Note that a fairly constant stream of Pacific moisture will funnel into Canada and the Pacific Northwest. Several inches of moisture will fall over the coming days along with several inches of snow in the high elevations. The other thing to note is that moisture will finally start moving into California, where moisture would be very beneficial in helping fight the wildfires there.
 Snowfall Potential
Here's the snowfall potential over the next 5 days, which shows the heaviest snow falling across parts of Canada, but there will be some snow across the high elevations of the Cascades.
________________________________________________________________________
Until Further Notice There Is No Weather
By Paul Douglas
Minnesota meteorologists will be at a rare & welcome loss for words this week. Expect a troubling mix of cookie recipes, spontaneous yodeling and knock-knock jokes, as there will be precious little to point to on our weather maps. By the way, I'm OK with that.
There are a few precious weeks every fall, a pause, an intermission, when we commiserate with our colleagues in San Diego and Phoenix. Too late, dry & stable for severe thunderstorms. Not yet cold enough for snowy treats gumming up rush hour. Late September thru mid October is about as quiet and benign as Minnesota weather ever gets.
Under a postcard sky we should enjoy 3 or 4 days above 70F between now and Saturday, when a stiff southerly wind may fuel a few showers and T-showers. A couple of Canadian fronts cool us off next week – nothing controversial or awe-inspiring is brewing just yet.
Ireland and much of the British Isles are cleaning up from "Ophelia". Winds gusted as high as 119 mph in Ireland, from the farthest eastward tracking Cat 3 hurricane on record, the result of unusually warm/deep Atlantic ocean water.
________________________________________________________________________
Extended Forecast
TUESDAY: Sunny and fine. Winds: SW 7-12. High: 71.
TUESDAY NIGHT: Clear and not as cool. Winds: S 5. Low: 50.
WEDNESDAY: Breezy with lukewarm sunshine. Winds: W 10-15. High: 70
THURSDAY: Blue sky. Hard to stay indoors. Winds: SW 7-12. Wake-up: 44. High: 68.
FRIDAY: Partly sunny. Feels like September. Winds: S 10-15. Wake-up: 53. High: 73.
SATURDAY: Fading sun. Risk of thundershower. Winds: S 10-15. Wake-up: 58. High: 69.
SUNDAY: Gradual  clearing, drying out. Winds: W 7-12. Wake-up: 48. High: 62.
MONDAY: Clouds increase. Fine fall day. Winds: W 10-15. Wake-up: 46. High: 64.
_______________________________________________________
This Day in Weather History
October 17th
1971: Heavy rain falls in NW Minnesota. 4.02 inches is recorded at Georgetown (20 miles N of Moorhead).
1952: Record lows between 10 to 15 degrees are reported across central Minnesota, including a low of 10 at St. Cloud, 12 at Glenwood, and 14 at Alexandria, Litchfield, and Mora.
________________________________________________________
Average High/Low for Minneapolis
October 17th
Average High: 58F (Record: 84F set in 1910)
Average Low: 39F (Record: 22F set in 1952)
Record Rainfall: 1.24″ set in 1879
Record Snowfall: Trace set in 2004
_________________________________________________________
Sunrise/Sunset Times for Minneapolis
October 17th
Sunrise: 7:31am
Sunset: 6:24pm
Hours of Daylight: ~10 hours 52 mins
Daylight LOST since yesterday: ~3 minutes and 00 seconds
Daylight LOST since summer solstice (June 20th): 4 hours & 45 minutes
__________________________________________________________
Moon Phase for October 17th at Midnight
1.5 Days Before New Moon
_________________________
Weather Outlook For Tuesday
Highs on Tuesday will be VERY mild for mid October as highs warm into the 60s and 70s across the state. Note that 10F to almost 20F above average.
__________________________________________________________________________
Simulated Radar Ahead…
Here's the simulated radar across the Upper Midwest from Tuesday to Thursday, which suggests mostly quiet weather across much of the region as a bubble of high pressure settles in.
______________________________________________________
Minneapolis Temperature Outlook
Here's the temperature outlook through October 31st, which shows very mild temps moving in through the 3rd full week of October. Temps could warm into the 60s and 70s, which 10F to almost 15F above average! Enjoy it because the extended forecast suggests MUCH cooler temperatures potential moving in by the end of the month. Stay tuned.
_________________________________________________________________
October Rainfall So Far…
It's been a fairly wet month so far with many areas seeing 2″ to nearly 4″ of rain, but a few locations have seen 4″ to 7″ in southern Minnesota!
Minnesota Drought
According to the US Drought Monitor, much of the state is drought free, but nearly 11% of the state is considered to be abnormally dry with 1.3% in a Moderate drought, which is down from nearly 2.5% last week.

__________________________________________________________________
6 to 10 Day Temperature Outlook
According to NOAA CPC, there is a very good chance of well above average temperatures from October 21st to October 25th across much of the Midwest
6 to 10 Day Temperature Outlook
According to NOAA's CPC – much of the nation will remain above average with the exception of the Intermountain West, where cooler than average temps will be found
_____________________________________________________________________
"Hurricane Irma's runoff draws brown line of pollution on Florida's Atlantic Coast"
"JUPITER ISLAND, Fla. — Rainfall runoff and Lake Okeechobee discharges since Hurricane Irma hit Florida last month have turned miles of Atlantic beaches and Indian River Lagoon waters the color of coffee. Indian River, St. Lucie and Martin counties in Florida — given the moniker Treasure Coast because of tons of treasure left on the ocean floor when Spanish ships sunk during hurricanes — always has felt the brunt of strong storms and lots of rain in early fall, said Grant Gilmore, a marine biologist who has studied life in the lagoon for more than 40 years. "What's worse than the color of the water is what's in the water," said Gilmore, lead scientist for Estuarine, Coastal & Ocean Science in Vero Beach, Fla. "The chemicals (from crops and lawns) kill the plankton in the (St. Lucie) river and lagoon that all the fish depend on for food." The fish can flee and some see an influx of brown water each fall as a signal to head to the ocean to spawn, he said. Oysters and sea grass can't leave, and they're dying because the influx of fresh water lowers the salinity they need to survive."
__________________________________________________________________
"Trump to nominate climate change doubter as top environmental adviser"
"President Donald Trump will nominate a climate change skeptic with ties to the fossil fuel industry to serve as a top environmental adviser. The White House on Thursday announced the selection of Kathleen Hartnett White of Texas to serve as chair of the Council on Environmental Quality. White served under former Texas Gov. Rick Perry, now Trump's energy secretary, for six years on a commission overseeing the state environmental agency. White was fiercely critical of what she called the Obama administration's "imperial EPA" and pushed back against stricter limits on air and water pollution. She is a senior fellow at the Texas Public Policy Foundation, a conservative think tank that has received funding from fossil-fuel companies that include Koch Industries, ExxonMobil and Chevron. In a 2014 policy paper titled "Fossil Fuels: The Moral Case," White praised the burning of coal and petroleum for "vastly improved living conditions across the world" and credited fossil fuels with ending slavery. She also likened the work of mainstream climate scientists to "the dogmatic claims of ideologues and clerics." White is a member of the CO2 Coalition, a group that seeks to educate "thought leaders, policy makers, and the public about the important contribution made by carbon dioxide to our lives and the economy."
(Brendan Smialowski / AFP/Getty Images VIA Chicago Tribune)
________________________________________________________
"The end of the monsoon as we know it? Climate change may slash our rainfall"
"Continued climate change will likely slash the Southwest's summer monsoon rains, a new study says. The strong possibility that annual monsoon rainfall totals will drop 30 to 40 percent in this region by the end of the century if major steps aren't taken to reduce greenhouse gas emissions is the take-home message of the study, written by researchers from Princeton and a federal weather agency among others. "If you think about our children, the next generation, the monsoon in general and where our water comes from will be fundamentally different for our children than it was for us," said one of the study's eight co-authors, Sarah Kapnick, a federal researcher who says that Western water issues are "what keeps me up at night. "Southern Arizona monsoons are critical for the region's water supply, producing more than half the Tucson area's normal annual rainfall of about 11.5 inches. This past summer's monsoon totaled 8.57 inches, well above the normal monsoon of about 6 inches. If the monsoon were to be slashed 40 percent, that would cut our total annual rainfall by about 20 percent. "It would have significant impact" on the Sonoran Desert, said Thomas Meixner, a University of Arizona hydrologist who was not involved in the study. "There would be less plant production, less food for animals, less water for them to drink.""
See more from Tucson.com HERE:
(Mike Christy / Arizona Daily Star VIA Tucson.com)
__________________________________________________________________"A NEW THREAT TO THE OZONE LAYER"
"High above Earth, more than 20 miles above sea level, a diaphanous layer of ozone surrounds our planet, absorbing energetic ultraviolet rays from the sun. It is, essentially, sunscreen for planet Earth. Without the ozone layer, we would be bathed in dangerous radiation on a daily basis. For more than 30 years, the Montreal Protocol has regulated ozone-destroying chemicals, allowing Earth's ozone holes to heal and shrink. But there's trouble on the horizon. An international team of researchers led by David Oram of the University of East Anglia has found an unexpected, growing danger to the ozone layer from substances not regulated by the treaty. The danger comes from a class of chemicals known as "chlorocarbons." Dichloromethane is an example. It is used in paint stripping, agricultural fumigation, and the production of pharmaceuticals. Over the past decade dichloromethane became approximately 60% more abundant. "This was a major surprise to the scientific community and we were keen to discover the cause of this sudden increase," says Oram. Developing economies in East Asia appear to be the source. "Our estimates suggest that China may be responsible for around 50-60% of current global emissions [of dichloromethane], with other Asian countries, including India, likely to be significant emitters as well," says Oram."
See more from SpaceWeather HERE:
_________________________________________________________________"La Niña is expected this winter. What will that mean for our weather?"
"La Niña, the cooler sibling of El Niño, is likely to form over the next few months, federal government forecasters said Thursday. Specifically, there's a 55 to 65% chance that a La Niña will develop during the fall and winter of 2017-18, the Climate Prediction Center said. The La Niña climate pattern — a natural cycle marked by cooler-than-average ocean water in the central Pacific Ocean — is one of the main drivers of weather in the U.S. and around the world, especially during the late fall, winter and early spring. A typical La Niña winter in the U.S. brings cold and snow to the Northwest and unusually dry conditions to most of the southern tier of the U.S., according to the prediction center. The Southeast and Mid-Atlantic also tend to see warmer-than-average temperatures during a La Niña winter. However, the Upper Midwest into New York and New England tend to see colder-than-average temperatures, the Weather Channel said. Globally, La Niña often brings heavy rainfall to Indonesia, the Philippines, northern Australia and southern Africa."

_____________________________________________________________________
"The extreme 2017 hurricane season adds another remarkable record to its long list"
"Hurricane season still has 48 days left but it's already one of the most terrible on record, which will be remembered for generations. Like other famous seasons — 1995, 2004 and 2005 to name a few — 2017 has had many storms and many significant landfalls. Impressive records keeping falling this year, the latest occurring this week when Ophelia became a hurricane in the eastern Atlantic. From Franklin to Ophelia, ten hurricanes have developed in the last 10 weeks, consecutively, tying a record for most hurricanes in a row. The last time this happened was way back in 1893. In an average season, we would typically have seen only five hurricanes by Oct. 13, along with five additional named storms of lesser intensity. This year — far from average — there have been 15 named storms from Arlene in April to Ophelia in early October."
See more from WashingtonPost HERE:
__________________________________________________________________
"Climate conditions behind deadly October 2017 wildfires in California"
"Under the driving force of fierce winds, deadly wildfires exploded across northern California in the second week of October 2017. According to the Los Angeles Times, at least 17 people had been killed as of October 11, and thousands of homes and other infrastructure—including cell phone towers used by the state's emergency services—had been destroyed. The extremely dangerous fire conditions actually began last winter, with near-record precipitation between December 2016-February 2017. The drought-busting amounts of precipitation re-stocked the state's snowpack, which had been heavily depleted by 6 years of drought. The wet winter fostered "megablooms" of desert wildflowers and ushered in a lush growing season. Unfortunately, the climate swung to a different extreme. The state's second-wettest winter on record was followed by its hottest summer. Baked to tinder in the extreme heat, the abundant vegetation of spring became the kindling for these autumn fires."
______________________________________________________________________
Thanks for checking in and don't forget to follow me on Twitter @TNelsonWX